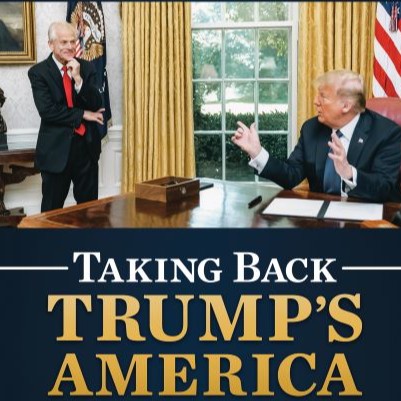 Peter Navarro is one of only three senior White House officials to serve at the right hand of Donald Trump all the way from the 2016 campaign to the end of his first term in 2021. At the Trump White House, Peter was the President's Chief China Hawk and helped craft many of the tough tariffs and sanctions Donald Trump would impose upon Chinese Communist regime. As the Director of the Office of Trade and Manufacturing Policy, Peter Navarro helped President Trump create hundreds of thousands of manufacturing jobs through tough trade policies, by drafting numerous buy American, Hire American executive orders on behalf of the president, and through targeted interventions at key defense facilities like the Philadelphia shipyard and Ohio's Lima Army Tank Plant. At one point, Peter also played a pivotal role securing our Southern border by helping to bring about the so-called safe third country agreements with both Mexico and the Northern Triangle countries of Guatemala, Honduras, and El Salvador. During the pandemic, Peter Navarro was also the first to call out Dr. Anthony Fauci for his Never-Trump duplicity and for Fauci's role in helping the Chinese Communist Party create a deadly viral bioweapon in a Wuhan lab funded by Fauci's NIH. This COVID-19 virus has already killed millions of people worldwide. Peter Navarro started this podcast as an extension of his book Taking Back Trump's America. This best-selling book -- please buy it on Amazon! -- has become both the blueprint and battle cry for the modern MAGA movement and Peter's mission is to return Donald Trump to the White House in the 2024 presidential election and restore peace and prosperity to this great land.
Episodes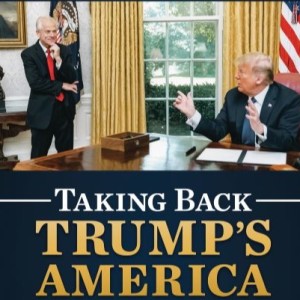 Tuesday Nov 14, 2023
Tuesday Nov 14, 2023
Mike is one of my favorites!  He would have been a PERFECT Vice President for Trump in 2016.  Enjoy.
Here's an AI generated transcript, warts and all.  Better than nothing!
SPEAKER 2
Hey, Peter Navarro here.
Had a great time down in Nashville with the great Mike Huckabee.
Here's part one of the interview.
SPEAKER 1
Go to MikeHuckabee.com and sign up for his free newsletter and follow at GovMikeHuckabee on Twitter.
The first time Peter Navarro was to appear on our show, the FBI arrested him as he was boarding the flight to get to Nashville to be here.
SPEAKER 2
I was on my way to Nashville today to do a TV appearance with Mike Huckabee show, right?
SPEAKER 1
Well, we were thrilled when he did come on a few weeks later to tell the story of being harassed by the Justice Department and the Kangaroo Court of the Sham January 6th Committee.
He was later convicted of failing to appear before them because, unlike some people,
Peter Navarro actually believes in the Constitution and it's very clear separation of powers provisions.
His principle stand has resulted in hundreds of thousands of dollars in legal costs, which he sure hopes people like you and me will help him raise.
Peter has a PhD from Harvard.
He's been a distinguished professor of economics in several universities, and he's been willing to call out the economic establishment for selling out the USA in a lot of the unfair trade deals that have cost Americans their jobs.
President Trump brought him on board from the very beginning of his administration.
and he stayed all the way to the end.
He bucked the failed trade policies of previous administrations from both Democrat and Republican administrations.
And he helped President Trump lead us in a real effort to put America's interests first above those of the multinational corporations.
I'll tell you this, I like him because so many of the people that have helped wreck America, they don't like him.
So that's all the more reason I really like him.
Welcome back to the show, Dr. Peter Navarro.
SPEAKER 2
What I love about coming here besides this place, which is the best venue of any show in America
Everybody in America needs to understand one thing.
The Gaza Strip, which is adjacent to Israel, it's 26 miles long.
It's three and a half to seven and a half miles wide at its widest.
And there's 300 miles of tunnels underneath the Gaza Strip, which are used by the Hamas terrorist group.
to first of all import rockets and other weapons from Egypt under the tunnels, and then to conduct all manner of rocket attacks and raids on Israel.
And this attack that happened, Mike, was the result of these tunnels stretching underneath the border into Israel and having these people pop up and killing babies.
And as our politicians here in Washington are trying to prevent Israel from destroying those tunnels in Gaza for its security, the Israelis are taking a principled stand because that's what they need to do.
So as you watch the news, please understand that the reason why the Israelis are in Gaza is to destroy those tunnels in Hamas.
SPEAKER 1
And I think people don't even appreciate that there are more tunnels under that little piece of real estate in Gaza than the entire New York City subway system.
SPEAKER 2
Well, look, the one other thing, and I wrote about this in the articles on my substagging, I'm of the Vietnam era, right, the Vietnam War era.
And I don't know if you know this, but one of the big reasons why America lost the war in Vietnam, it was the first war we ever lost,
was these things called the Tunnels of Cu Chi.
And there was a very, very elaborate system of tunnels that the Viet Cong and North Vietnamese had under Saigon, which is now Ho Chi Minh City, that stretched all the way to the Cambodian border.
And it was from those tunnels that they launched the Tet Offensive in 1968,
which was the turning point in the war.
It was from those tunnels they'd pop under Tanzanian Air Force Base and kill Americans.
And they launched all manner of sabre attacks.
And the problem was the American command did not do anything about those tunnels other than to send some of the bravest men in the world down there with pistols and flashlights.
And the whole point of the article I wrote was Israel must learn the lesson of the tunnels in Cu Chi in Vietnam
And they can't have those tunnels.
And so this is where we're at.
And it's a very dangerous place.
Having Joe Biden there as president is drawing us in to wars in Ukraine, wars now with Iran and China, communist China.
It's always communist China, folks.
It's just waiting to go after Taiwan once
SPEAKER 1
When you were in the White House and helping President Trump, we actually were pushing back on the unfair trade deals.
It's one of the things that I don't think a lot of people understood.
We had been played for chumps.
You and the President said, nope, we're not going to let these folks, the communists, just run over us, lie to us, make trade deals that are not good for Americans.
And we started making progress.
That progress has been lost in the last two years.
SPEAKER 2
It started in 2001 when President Bill Clinton, just as his last act, allowed China into the World Trade Organization and access to our markets.
And they came in and they broke every rule in the WTO book to destroy our factories,
And they took away five million manufacturing jobs, 70,000 factories, and Donald Trump got elected in large part on a platform of pushing back on that.
And what we did, and it was a beautiful thing, was the Trump tariffs.
Because if they're cheating, if they're subsidizing their exports into the United States, the only way you can offset that is with tariffs.
And that's exactly what we did.
But the job wasn't even half finished.
when 2020 came along and we need him back to finish that job because China takes a trillion dollars from us every year now in the trade deficit and you know what they use that for, Mike?
We're going to continue that because I want to get more into what we can do to push back with China because you guys were actually getting it done.
So there's a lot more to talk about it with Peter Navarro.
We're going to be right back after the break.
We'll see you in a moment.
Thanks for watching this.
Be sure to check out my sub stack at PeterNavarro.substack.com.
That's PeterNavarro.substack.com.