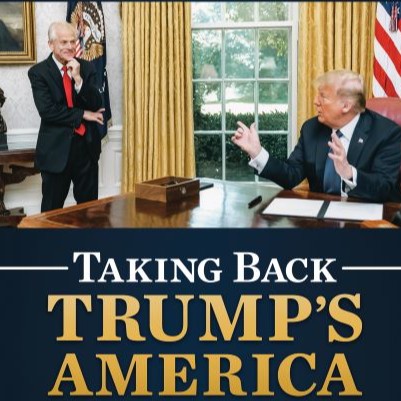 Peter Navarro is one of only three senior White House officials to serve at the right hand of Donald Trump all the way from the 2016 campaign to the end of his first term in 2021. At the Trump White House, Peter was the President's Chief China Hawk and helped craft many of the tough tariffs and sanctions Donald Trump would impose upon Chinese Communist regime. As the Director of the Office of Trade and Manufacturing Policy, Peter Navarro helped President Trump create hundreds of thousands of manufacturing jobs through tough trade policies, by drafting numerous buy American, Hire American executive orders on behalf of the president, and through targeted interventions at key defense facilities like the Philadelphia shipyard and Ohio's Lima Army Tank Plant. At one point, Peter also played a pivotal role securing our Southern border by helping to bring about the so-called safe third country agreements with both Mexico and the Northern Triangle countries of Guatemala, Honduras, and El Salvador. During the pandemic, Peter Navarro was also the first to call out Dr. Anthony Fauci for his Never-Trump duplicity and for Fauci's role in helping the Chinese Communist Party create a deadly viral bioweapon in a Wuhan lab funded by Fauci's NIH. This COVID-19 virus has already killed millions of people worldwide. Peter Navarro started this podcast as an extension of his book Taking Back Trump's America. This best-selling book -- please buy it on Amazon! -- has become both the blueprint and battle cry for the modern MAGA movement and Peter's mission is to return Donald Trump to the White House in the 2024 presidential election and restore peace and prosperity to this great land.
Episodes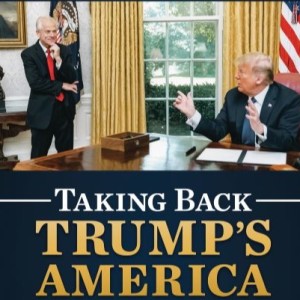 Monday Nov 13, 2023
Monday Nov 13, 2023
TRANSCRIPT  http://peternavarro.substack.com
The Republican Party must immediately unite around Donald J. Trump as its presidential candidate.  Republican National Committee Chair Ronna McDaniel must voluntarily pass the torch of leadership to a new RNC Chair capable of running a competent campaign in 2024. 
Absent these two mid-course corrections, the Republican Party will squander a platinum opportunity to take back both the White House and Congress from a Democrat Party destroying everything Main Street America holds dear.
Trump has an insurmountable lead in the polls and a rock-solid base no other candidate can shake.  He WILL be the nominee.
As we saw last week, there is no one left on the debate stage either capable of being president or likely to be Trump's VP choice.  The Pillsbury Doughboy of Venom Chris Christie has self-immolated as spoiler hit man.  Loudmouth Ramaswamy is, at best, a Deputy Cabinet appointee. 
As for Nikki Haley, yond lean and hungry Cassius has bitten the Trump hand that fed her so many times that she will have NO place in a Trump administration (other than perhaps as ambassador to Botswana).  Ron DeSanctimonious blew his VP chance not just when he swung for Trump's head.  Shrinking Ron has little national appeal to justify a place on the Trump ticket.
What, then, is the purpose of continuing with a contested primary season that serves only to drain political funds from the General Election?  Why have a debate schedule that allows the Keebler Elf candidates to throw mud at Trump as they make fools of themselves? 
In fact, we saw a similar movie and mud fest in 2020 with all of the usual suspects now hanging around the 2024 fringes.  These Never-Trumpers range from the Koch network's dark money and Rupert Murdoch's propagandist Fox to the Romney-McConnell-Ryan-Noonan RINO sappers and nasty PAC men like George Conway and John Bolton.  In 2020, their dark money and negative ads and attacks most certainly shaved points off the final Trump tally in what was a highly contested race.  
And let's not forget the 2020 fragging of Trump from the likes of endless warmongers like George W. Bush, Mad Dog Mattis, and the late Colin Powell, and the passive-aggressive shots at Trump by Mitch McConnell in a Senate that has become nothing short of a Uniparty RINO embarrassment. 
As splintered as the Democrat Party is supposed to be, their leaders and big donors wouldn't be doing anything like what the Republican Party is doing.  Now, it's either "here we go again" and the Republican Party hands over an eminently winnable election to the Democrat Party of economic mayhem, open borders, and foreign policy chaos.  Alternatively, it can unite around "The Donald" as the only clear path to victory in 2024.
Even if Trump quickly becomes the presumptive nominee, there still is the matter of a Republican National Committee.  As last week's election once again demonstrated, the RNC fat cats know far better how to hold plush fundraisers at posh resorts than win down and dirty elections against a brass-knuckled, grassroots Democrat Party willing to lie, cheat, and lawfare its way to victory.
Here's several obvious post-election takeaways.  First, the RNC must develop a far better ground game behind them.  It's not just about getting folks to vote early.  It's also about getting more folks to the polls. 
Second, if the RNC allows the Democrat Party to turn the 2024 presidential and congressional races into a referendum on social issues, particularly abortion, Republicans will lose in RECORD numbers.  Just how many times do Republican strategists and leadership have to make this same stupid mistake? 
Obama did social issued the feckless Mitt Romney in 2008 when Romney was all but a lock to win on economic issues and Communist China raid on our factories.  Obama did it again to the clueless and ever-cranky, now dear departed John McCain in 2012. 
And what about that 2022 Republican tsunami that was supposed to result in a record House victory?  It never materialized for all manner of RNC-induced reasons, not the least of which was a failure to properly message on the abortion issue.
Dukakis had it right with his Greek proverb that the fish rots from the head down.  The RNC is a rotten political machine sputtering on every single cylinder, and its head, Ronna McDaniel, must hold her own self accountable for last week's carnage.  So, Ronna, end the debates, endorse Trump, and then step aside so we can, in the words of the immortal Al Davis, "win, baby, win." 
I'm Peter Navarro, and thanks for listening.  Be sure and check out my substatck at peternavarro.substack. com  That's peternavarro.substack.com.  And it will help me get the word out if you write up a review of this podcast.  I'd love to know what you think.
Peter Navarro, Out.