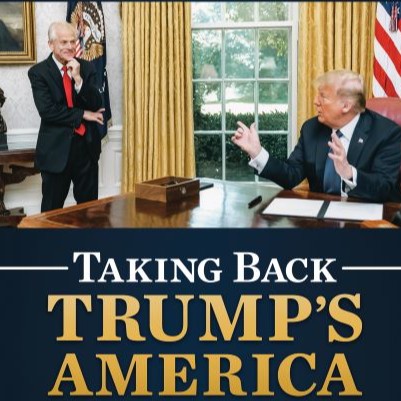 Peter Navarro is one of only three senior White House officials to serve at the right hand of Donald Trump all the way from the 2016 campaign to the end of his first term in 2021. At the Trump White House, Peter was the President's Chief China Hawk and helped craft many of the tough tariffs and sanctions Donald Trump would impose upon Chinese Communist regime. As the Director of the Office of Trade and Manufacturing Policy, Peter Navarro helped President Trump create hundreds of thousands of manufacturing jobs through tough trade policies, by drafting numerous buy American, Hire American executive orders on behalf of the president, and through targeted interventions at key defense facilities like the Philadelphia shipyard and Ohio's Lima Army Tank Plant. At one point, Peter also played a pivotal role securing our Southern border by helping to bring about the so-called safe third country agreements with both Mexico and the Northern Triangle countries of Guatemala, Honduras, and El Salvador. During the pandemic, Peter Navarro was also the first to call out Dr. Anthony Fauci for his Never-Trump duplicity and for Fauci's role in helping the Chinese Communist Party create a deadly viral bioweapon in a Wuhan lab funded by Fauci's NIH. This COVID-19 virus has already killed millions of people worldwide. Peter Navarro started this podcast as an extension of his book Taking Back Trump's America. This best-selling book -- please buy it on Amazon! -- has become both the blueprint and battle cry for the modern MAGA movement and Peter's mission is to return Donald Trump to the White House in the 2024 presidential election and restore peace and prosperity to this great land.
Episodes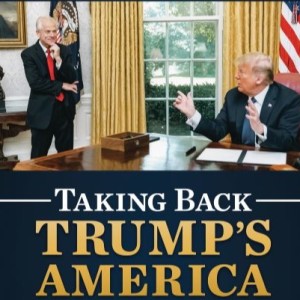 Sunday Mar 12, 2023
Sunday Mar 12, 2023
Please subscribe to Peter Navarro's Taking Back Trump's America | Substack.  It's free but a paid subscription helps fund Peter's legal defense against a Biden regime trying to put him in prison simply for doing his duty.
PARTAIL TRANSCRIPT
Hi. I'm Peter Navarro, it is March 12, 2023, and here is some breaking news: Fox News show host Tucker Carlson has purportedly sent out a questionnaire on America's Ukraine policy to a set of Republican presidential candidates.  
My immediate thought upon hearing this news was, to speak in the salty vernacular of one of my old Chiefs of Staff at the Trump White House, John Kelly, "Who the hell does Tucker think he is?" 
Before I try and answer to that question, settle down all you fan boys and fan girls of Tucker. I like Tucker, and Tucker has been good to me – at least he was up until the point where the Fox brass canceled me from his show. I'll get to that in a minute; but first, this: 
What Tucker is doing seems to be the height of arrogance. In effect, Tucker thinks his ratings are so big that he can set himself up as a powerbroker in the 2024 presidential race as if he were the actual Fox network itself – such questionnaires the sponsorship of debates are typically the province of the network itself, across the cable news diaspora. 
To put this another way, Tucker is sending out questionnaires to presidential candidates and in the apparent belief that because the show is so popular and highly rated, these candidates must kiss Tucker's ring and fill out those questionnaires – or risk retribution if a candidate fails to answer the questionnaire. 
Truth be told, I'd like to know the answers to a lot of the questions Tucker is asking. But where does this end?  Is Hannity going to start sending out questionnaires? How about Laura or Jesse or Brian Kilmeade? 
And if Tucker at Fox can do it, why not Ari Melber at MSNBC or Joy Reed at CNN?  
The answer is that of course none of these other talk show hosts are going to go down that road, at least not without permission from their network, yet Tucker thinks he can do it because the show was so popular. 
Here is my real concern about giving Tucker so much power to influence the 2024 election.  
Numero Uno is that Tucker Carlson is not a Donald Trump fan. That is certainly no secret in the recent spate of emails and other correspondence that have leaked out from a lawsuit confirm this statement. 
Second, is on air personality aside, Tucker appears to care more about ratings than policy. Put simply, is not a MAGA true believer but simply a pragmatist to, like a jeweler with precision that the resentments of his audience. This too is revealed in the email correspondence recently leaked. 
Third, and most worrisome, Tucker ultimately gets his paycheck from Rupert Murdoch and the Fox News Corporation. Yes, Tucker is now walking an interesting tight rope taking on issues that run counter to the globalism and corporatism of Rupert, and he is getting away with it because of the popularity of the show. 
Go to Peter Navarro's Taking Back Trump's America | Substack for the rest of the story 
Comments
(2)
To leave or reply to comments, please download free Podbean or
Jon stewart is a c*** sucker
good shout outs to others